Thunderlight Punch
Spell profile
Primary caster
Rio Wesley
Classification
Magic system
Modern Belka
Category
Attack
Type
Magic-enhanced attack
Production
Japanese name
雷光拳

(Raikō Ken)

First app.
ViVid (ch.37)
Thunderlight Punch (雷光拳 Raikō Ken) is a punch attack of Rio Wesley, utilizing her Mana Conversion Affinity of electricity.
Thunderlight is the transliteration of Raikō, which has similar meaning to lightning.
Notable uses
Edit
In ViVid (ch.37), Rio uses it during her Intermiddle match against Hallie Tribeca, who counterattacks with a headbutt.
Variations
Edit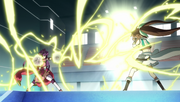 In ViVid Strike! (ep.5.5, OVA), Rio uses an unnamed electric attack against Fuka Reventon during their spar. Electricity converted from Rio's mana becomes the extension of her fists, and she controls it to attack Fuka by punching from far away. This may be a variation of Thunderlight Punch, similar to the case of Crimson Punch used as a cross-range bombardment.
References
Edit