Solfège

Solfège's standby form in ViVid

Device profile
Other names
Sol
Master
Rio Wesley
Gender
Male
Language
English
Classification
Magic system
Modern Belka
Type
Intelligent
Handling
Weapon
Production
Japanese name
ソルフェージュ

(Sorufēju)

First app.
ViVid (ch.1)
Voiced by
Jamie Schyy
Solfège (ソルフェージュ Sorufēju)[1] is Rio Wesley's Intelligent Device.
Solfège is the French word for the basic, eight-note music scale. He is nicknamed by Rio as Sol (ソル Soru).[2]
Appearances
Edit
Solfège appears primarily alongside Rio in ViVid and ViVid Strike!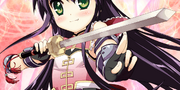 Forms
Description
Standby Form
Takes the form of a Bagua amulet with a Belkan Triangle on its display. His design is same as the amulets sold at Spring Sunlight Fist Dojo in Leuven.
Active Form
When activated, Solfège is presumably absorbed into Rio's body for auxiliary control, e.g. support for Powered-System.
Device Form
Takes the form of a Taijijian sword with an octagonal guard.

First seen in ViVid (ch.37).
References
Edit