Matti (マティ Mati) is a member of the "Fake Hückebein" who first appears in chapter 18 of Force. He is killed by the self-destruction unit built inside his body in chapter 19.
Matti is probably named the rally drive Jari-Matti Latvala.
Personality
Edit
The group behind "Fake Hückebein" is eventually revealed to have been the Vandein Corporation.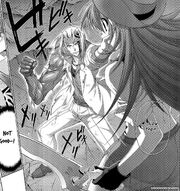 Matti wields a lesser-type Divider-VC11. He possesses the viralizing ability of body-strengthening that can generate steel-like bulletproof skins, which can even defend against Arnage's barrages.
References
Edit