Els Tasmin (エルス・タスミン Erusu Tasumin) is a teenage magic battle athlete first introduced in Magical Girl Lyrical Nanoha ViVid. She is a meganekko.
Her family names is presumably a reference to the TVR Tasmin 280i.
She is nicknamed Four-Eyes (デコメガネ deko megane, lit. decoration glasses) by Harry Tribeca.
Els enrols in the 0079 DSAA Intermiddle Championship. It is her fifth time joining so, and her personal best so far is city-wide 7th-runner-up.
She is first seen in ViVid (ch.21) at the opening ceremony of the year's Intermiddle, giving the greeting speech. In ViVid (ch.26), she faces against her rival Harry, but ultimately loses against her. After that, she volunteers to be the second of Sieglinde Eremiah.
In ViVid Strike!Edit
Els is a U19 Player and only makes a minor appearance in ViVid Strike!
In episode 5, she and Harry visit Nakajima Gym to act as Fuka Reventon's sparring partners under Mikaya Chevelle's arrangement. They also act as seconds of Fuka in episode 5.5 (OVA) alongside Yumina Enclave. From episode 6 onwards, they watch the 0080 Winter Cup tournament and the private match between Fuka and Rinne Berlinetta together.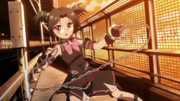 Els is a force field mage. Her Device is Punisher and her special skill is Rule Master (違反封縛 Rūru Masutā, lit. violate bind). As seen in the Infinity Library, she has already learnt to use flying magic.
Barrier Jacket
Edit
Els' latest Barrier Jacket is known as Black Justice.
References
Edit