Digo (ディーゴ Dīgo) is a member of the "Fake Hückebein" who first appears in chapter 18 of Force. He is killed by Veyron's Claw Grab in chapter 19.
Digo is probably named after BRIDE DIGO, a series of reclining seats for automobile.
Personality
Edit
Digo, similar to Veyron, has a very unpleasant personality. He treats his Reactor Fifth in a rude and violent way.
The group behind "Fake Hückebein" is eventually revealed to have been the Vandein Corporation.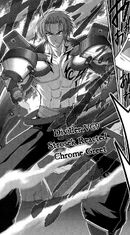 Bullet V2 is one of Digo's basic attacks with his Divider-VC9.
References
Edit
Ad blocker interference detected!
Wikia is a free-to-use site that makes money from advertising. We have a modified experience for viewers using ad blockers

Wikia is not accessible if you've made further modifications. Remove the custom ad blocker rule(s) and the page will load as expected.