Cartridge system
Talk

11
868pages on
this wiki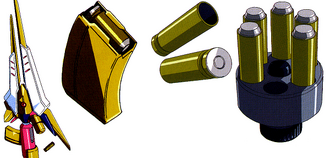 The cartridge system (カートリッジシステム kātorijji shisutemu) is a Device upgrade that allows to momentarily boost its power output by consuming so-called "cartridges". Cartridges are capsules (shaped like blank rifle rounds) containing compressed magical energy. When used in a Device, it releases that energy all at once, providing a power boost.
The cartridge system has been traditionally associated with Armed Devices (particularly, of Belkan design), because Intelligent Devices were thought to be unable to handle it due to the potential instability and the strain on the user. By the time of StrikerS, however, cartridge systems are said to have become much more reliable to use.
The parts for Raising Heart's automatic rifle-style cartridge system are designated "CVK792-A", while Bardiche's revolver-style system has the code "CVK792-R". The code "CVK-792" specially refers to Belkan cartridge system as per Amy Limietta.
Following Devices implement the cartridge system:
References
Edit