Amitie Florian (アミティエ・フローリアン Amitie Furōrian) is a female character from planet Eltria, first introduced in Magical Girl Lyrical Nanoha A's Portable: The Gears of Destiny.
Amitie is nicknamed Amita (アミタ Amita). Her family name is presumably a reference to the Isuzu Florian.
In The Gears of Destiny, Amitie is also titled the Guardian of Destiny (運命の守護者 Unmei no Shugosha).
Personality
Edit
Amitie is hot-blooded, but sometimes her efforts prove futile for her hot-blooded personality.
Alternate continuities
Edit
Amitie only appears in Gears of Destiny, as an android known as Gears. She travels dimensionally to Earth to look for her younger sister Kyrie Florian.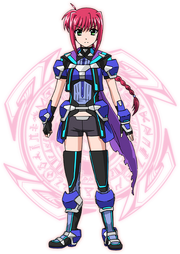 Amitie only appears in Reflection so far.
Brave Duel
Edit
Amitie Florian is the elder daughter of the Florian family, studying Year 2 at the Eltria Girls High School.
Like her sister, Amitie uses the Formula Eltria magic powers and wields the blue-framed Variant Zapper as weapon.
Protect Suit
Edit
Amitie casts Protect Suit as her basic defense, which is considered the Eltrian equivalent of Barrier Jacket. It is mainly blue in color.
References
Edit
Ad blocker interference detected!
Wikia is a free-to-use site that makes money from advertising. We have a modified experience for viewers using ad blockers

Wikia is not accessible if you've made further modifications. Remove the custom ad blocker rule(s) and the page will load as expected.